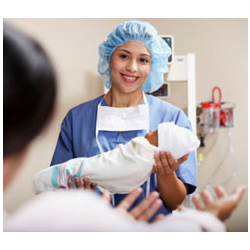 Nurse midwife is one of four advanced practice registered nurse (APRN) specializations. Also known as a certified nurse midwife (CNM) or certified midwife (CM), the nurse midwife is a primary care provider for women and newborns. She cares for women during labor and delivery, and she provides gynecological exams, prenatal care, and family planning services. Midwives also offer wellness care for mothers and newborns, and they diagnose and treat sexual or reproductive health issues for patients' partners.
Nurse midwives work primarily in hospitals, outpatient facilities, and patients' homes. Some find employment in the offices of physicians or other health practitioners. Approximately 5,500 nurse midwives are employed nationwide. Employment is expected to increase 29 percent over the next decade, representing 1,600 new jobs. Nurse midwives also earn some of the highest compensation in the healthcare industry. Their median annual salary is $92,290, and pay often exceeds $100,000 per year for top performers and in large metropolitan areas.
Nurse midwives must hold at least a master of science in nursing (MSN) degree. Many hold a doctor of nursing practice (DNP), the terminal degree in the field. Midwives must also earn either the CNM or CM credential before practicing. Most graduate midwifery programs require both a valid registered nursing (RN) license and a bachelor of science in nursing (BSN) degree. However, according to the American College of Nurse-Midwives (ACNM), select programs accept RNs without a bachelor's degree and provide a BSN bridge prior to midwifery study. Conversely, some programs will admit applicants with a bachelor's degree in a non-nursing field, providing an accelerated nursing education prior to midwifery study.
At the end of their graduate studies, aspiring midwives must pass a certification exam to earn the APRN midwifery credential. The American Midwifery Certification Board (AMCB) offers both the CNM and CM designations.
An exciting career as a nurse midwife requires a graduate degree from a top accredited nursing school. Browse our directory to find the best MSN programs in your local area.