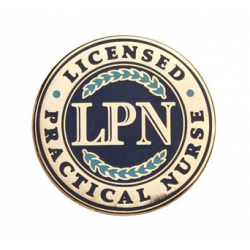 The U.S. is home to nearly 740,000 healthcare professionals who hold the title licensed practical nurse (LPN) or licensed vocational nurse (LVN). These two titles are actually synonymous: the term "LVN" is used in Texas and California, while "LPN" is the convention elsewhere. All aspiring LPNs must obtain a state license before pursuing employment. They work in a range of healthcare settings, including nursing care facilities, general medical and surgical hospitals, physicians' offices, home healthcare services, continuing care retirement communities, and assisted living facilities for the elderly.
The path to licensure begins with enrollment in a state-approved education program. Upon completion, the graduate must pass the National Council Licensure Examination for Practical Nursing (NCLEX-PN). There are well over a thousand LPN certificate programs across the country. Many of these programs are offered at community colleges and technical schools. However, a growing number of four-year colleges and universities provide LPN training as well. Some programs are also offered at hospitals and high schools. Admissions requirements vary by school but, in general, students must complete placement testing, submit prior coursework transcripts for evaluation, meet certain GPA requirements, submit ACT or SAT scores, and complete any prerequisite courses. To participate in clinical nursing courses, students may also have to complete a criminal background check, pass a drug test, obtain CPR certification and malpractice insurance, and submit health records.

LPN programs typically require one year to complete. However, some accelerated certificate programs may take as few as seven months, while programs that confer an associate of applied science (AAS) degree may require 24 months of study. The LPN curriculum covers critical subject areas like anatomy, physiology, basic nursing, nutrition, biology, emergency care, pediatric nursing, pharmacology, obstetric nursing, and medical-surgical nursing. The program prepares students to perform duties such as administering oral and intravenous medications, collecting specimens, monitoring patients for a change in clinical condition, administering feedings through a nasogastric or gastronomy tube, changing wound dressings, and caring for patients with tracheostomy tubes and ventilators. All programs include supervised clinical experience.
The tuition for an LPN program varies significantly by the type of school, type of program, region of the country, and resident status. For example, a community college may charge state residents just $3,000 to $5,000 in annual tuition, while a private college could cost $20,000 to $30,000 per year. Despite the significant up-front costs, LPN graduates can expect to see a substantial increase in their earnings power. Nationwide, practical nurses earn about $42,000 per year on average; high-performing LPNs can earn close to $50,000 annually. To enhance her salary, an LPN can earn certifications in specialized areas like intravenous therapy, oncology, neonatal nursing, and gerontology.
The road to becoming a successful licensed practical nurse begins with a high-quality LPN program. Browse our directory to find the best LPN schools in your local area.