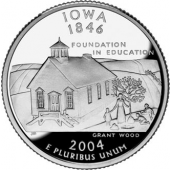 A public college or university is an institution primarily supported by state funds and governed by state-appointed boards and trustees. There are many benefits to attending a public college or university. For example, if you attend a public institution in your home state, you will earn a big break on tuition costs. As a state resident, you'll also have a higher chance of admittance than out-of-state applicants. Public universities and colleges tend to be larger and therefore have more program options than private institutions.

With so many excellent public nursing schools in Iowa, there's no need to travel far to receive a top-notch nursing education.

The University of Iowa is the state's flagship university and the largest public educational institution in the state. The school offers twenty different nursing programs spanning the baccalaureate, graduate certificate, master's, and doctoral levels. Students at the University of Iowa can choose from diverse specializations including family practice nursing, psychiatric and mental health nursing, and nurse anesthesia.
Des Moines Area Community College (DMACC) is Iowa's largest two-year college, with six campuses throughout the Des Moines metropolitan area. The full-service Urban campus, specializing in the arts and sciences, is the jewel in DMACC's crown and much praised for its facilities.
Favorite Healthcare Staffing and MedPro Staffing are two of the largest medical staffing agencies in Iowa. Both firms are in constant recruitment, seeking placements in hospitals and private care facilities around the state.
With so many fantastic public education options so close to home, there's no need to delay your nursing career. To get you started, we've compiled this list of the top public nursing schools in Iowa.