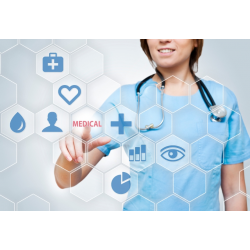 Per the American Medical Informatics Association (AMIA), nursing informatics (NI) is the science and practice (that) integrates nursing, its information and knowledge, with information and communication technologies to promote the health of people, families, and communities worldwide. Informatics nurses work in a variety of roles including chief nursing officers, developers of communication and information technologies, researchers, policy developers, educators, chief information officers, software engineers, implementation consultants, policy developers, and business owners.
To enter the field, informatics nurses must earn an associate's degree in nursing (ADN), a bachelor of science in nursing (BSN), or a nursing diploma from an accredited nursing school. Next, they must take the National Council Licensure Examination for RNs (NCLEX-RN) to obtain a license. After obtaining your RN license, you can begin working as a nurse while earning a master of science in nursing (MSN). MSN-prepared nurses can then earn a certificate in nursing informatics, which will prepare them to take and pass the American Nurses Credentialing Center Nursing (ANCC) Informatics certification exam.
An MSN with a specialization in nursing informatics or a certificate is often required by many of today's top employers. Fortunately, many certificate programs can be completed in less than one year and some are even offered online. Some of the best online options include Capella University, Walden University, and West Coast University. Students in these and other online programs will take courses such as healthcare informatics, interoperability and standards, database systems, design and information management, and implementation, management and evaluation of healthcare systems.
If the growing field of nursing informatics sounds like the career for you, enroll in a nursing informatics certificate program today. We've compiled below a list of the best online schools for a certificate in nursing informatics to help you get started.