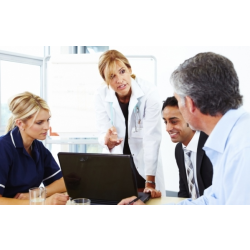 Nurse administrators are registered nurses (RNs) that are responsible for planning, directing, and coordinating medical and health services. They may manage a specific clinical area or department, a medical practice for a group of physicians, or even entire facilities. Because they must adapt to changes in healthcare laws, regulations, and technology, nurse administrators often take continuing education courses throughout their career.
Nurse administrators often hold an advanced degree such as a master of science in nursing (MSN) with a nursing administration specialization or an MSN + a certificate in nursing administration. Although it is not required by all employers, most prefer to hire administrators with either of these backgrounds.
Besides more employment opportunities, salaries for administrators with specialized education are higher. For example, the average salary for RNs was $68,450 in 2016, while nurse administrators (managers) earned $96,450. High performing nurse administrators earned more than $172,540, and those working in state, local, and private hospitals averaged $104,340.
Nurse administrators in major markets such as northern California and along the east coast also earned more, earning well into the six figures. San Francisco-Redwood City-South San Francisco, California metro area administrators earned $162,530, while those based in the Nassau County-Suffolk County, New York area earned $147,640.
High salaries are not the only benefits to becoming a nurse administrator. Professionals in this field have enjoyed exceptional employment growth over the years. The Bureau of Labor Statistics (BLS) reports that employment of nursing administrators (also called health services managers) is projected to grow 20 percent from 2016 to 2026. This is much faster than the average for all occupations.
If nursing administration sounds like a career path you would like to take, consider enrolling in an accredited certificate program. Some schools even offer online programs that allow students to continue working while earning their certificate, so why wait? Begin your search for an online certificate program today!
We've compiled below a list of the best online schools for a certificate in nursing administration to help you get started.