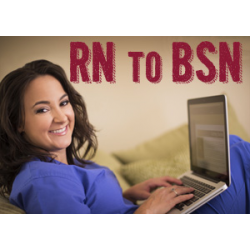 Registered nurses (RNs) with a bachelor of science of nursing (BSN) are in such high demand, that RN-to-BSN programs can be found at just about every nursing school in the U.S. And because most RN-to-BSN students are working nurses, some schools have developed online programs to make it easier for these professionals to continue working while earning their degree. Some of the best online options are offered at Grantham University, SUNY Empire State College, University of Maryland University College, California Southern University, and Galen College of Nursing.
Graduates of these programs have the opportunity to advance into desirable positons in nursing, public health, research, and other areas. Advancement means greater responsibility and in turn, greater earning potential. While RNs earned a median annual wage of $68,450 in May 2016, a number of reports show that BSN-prepared RNs earn more RNs with an associate's degree in nursing (ADN) or a nursing diploma.
According to Medscape's RN/LPN Compensation Report, 2017, BSN-prepared nurses averaged $80,000 in 2016, while ADN-prepared nurses averaged $77,000. Diploma-prepared nurses averaged $74,000. The BLS reports that high performers earned more than $102,990.
Besides earning a higher degree, RNs can increase their earnings by seeking positions at specialty hospitals (average earnings $76,540), outpatient care centers ($74,800), and general medical and surgical hospitals ($74,270). Seeking positions in certain locations can enhance earnings even more. For example, California has at least a dozen markets with strong pay for RNs. Among the strongest are the San Francisco-Redwood City-South San Francisco metro area ($136,610), Santa-Cruz-Watsonville ($124,920), and Vallejo-Fairfield ($124,380).
You don't have to wait a minute longer to advance your nursing career and start earning more. Enroll in a top RN-to-BSN program today. We've complied below a list of the best online nursing schools for RN-to-BSN degree completion to help you get started.