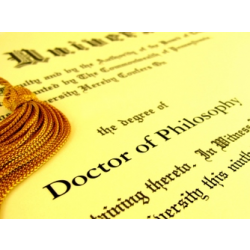 Though the path from bachelor of science in nursing (BSN) to doctor of philosophy (PhD) can be challenging, most graduates would agree that it's well worth the journey. This terminal degree can open the door to top positions at prestigious institutions and major healthcare facilities across the country, leading to higher pay, greater stability, and many other benefits. For example, professionals that hold a doctoral degree have the lowest employment rate in the United States. As of 2016, the unemployment rate for these degree holders was 1.6 percent. The rate for professionals with a bachelor's degree was 2.7 percent, and for those with no degree at all, the rate was 7.4 percent.
Salaries for those that hold a doctoral degree are significantly higher than salaries for those holding other degrees. Median weekly earnings for doctoral degree holders were $1,664 in 2016. Bachelor's degree holders earned $1,156. Doctorate degree holders working in certain industries and specialty areas earned even more. For example, in the medical industry, advanced degree holders working as nurse anesthetists, nurse practitioners, and nurse educators at specialty hospitals earned $160,720, $100,910, and $106,910, respectively.
A study of nursing and healthcare released by the Institute of Medicine (IOM) stated that nurses need to take on greater responsibility in healthcare, and recommended doubling the number of doctorally prepared nurses by 2020. So though competitive, nursing schools that offer PhD programs are eager to recruit new students. So eager, that many offer online options that make it easier for students to juggle the program, work, and personal obligations.
Some of the best nursing schools that offer online nursing doctoral programs include the Chamberlain College of Nursing, South University and Walden University.
If you would like more online program options, we can help. We've compiled below a list of the best online nursing schools with a post-bachelor's PhD program in nursing to help make your decision easier. Begin your search for an online nursing program today!