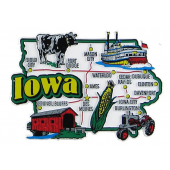 After several years of service, many nurses with a baccalaureate education choose to advance their careers by entering a specialized nursing vocation. Iowa offers over 20 master of science in nursing (MSN) programs that enable existing nurses to enter advanced fields such as nursing administration, nursing education, and family practice nursing.

Iowa's MSN programs are offered by prestigious schools like Clarke University, University of Iowa, and Saint Ambrose University. These programs run from one to three years, depending on the field of study and the student's enrollment status (i.e., full-time versus part-time). There is a significant emphasis on nurturing candidates' research and leadership abilities, as well as significantly advancing their clinical skills. Upon completion of an MSN program, candidates may attain licensure as advanced practice registered nurses (APRNs).

As an APRN, you can expect attractive employment prospects and compensation across a variety of nursing specializations. According to the Bureau of Labor Statistics, the median annual salary for Iowa's nurse practitioners is $86,790, while the state's nurse midwives earn an average of $95,330 per year. Iowa's nurse anesthetists fare even better in the job market, with a median annual salary of $153,850. APRNs are in high demand throughout the state from both private healthcare organizations, via staffing agencies such as MedPro Healthcare Staffing, and government healthcare organizations such as the Department of Veterans Affairs.
If you're interested in earning your master's degree at one of Iowa's best nursing schools, check out our list below. We've identified the top MSN programs across the state.