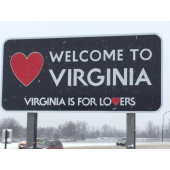 Registered nurses (RNs) are the backbone of the nursing workforce, and they earn some of the highest salaries in the healthcare industry. Entering this profession is a strategic career move, since RNs will experience above-average employment growth for at least the next decade. Aspiring RNs must complete at least an associate's degree in nursing (ADN) and successfully pass the NCLEX-RN national licensure examination before practicing in Virginia.

Overview of the ADN program
The two most common pathways to RN licensure are the ADN and the bachelor of science in nursing (BSN). The primary difference between the two is duration of study. Those seeking a rapid path to nursing employment may find the ADN pathway more suitable, since it requires just two years of fulltime study. Virginia has approximately fifty state-approved ADN programs. Several community colleges (CCs) have annual graduating classes well over 100 students, including Northern Virginia CC in Springfield and J. Sargeant Reynolds CC in Richmond. ECPI University also offers a large, private ADN program with strong NCLEX pass rates at campuses in several major cities.

Employment prospects for Virginia's RNs
Virginia's 60,000 registered nurses work with major healthcare providers across the state, including University of Virginia Medical Center, Inova Fairfax Hospital, Sentara Norfolk General Hospital, and Virginia Commonwealth University Medical Center. The state's typical RN earns about $62,750 per year. Top performers can receive over $74,000 in annual pay.
If you would like to become an RN in Virginia, finding the right school is the first step. We've profiled below each of the state's approved ADN programs. You'll find them grouped by metro area and ordered by their students' performance on the NCLEX exam.