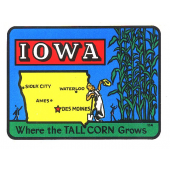 ADN programs focus on allowing participating candidates to attain initial registered nurse (RN) licensure. Registered nurses form the bulk of the country's nursing profession and hold a variety of responsibilities. These include administering healthcare activities directly and supervising more junior nurses like nursing assistants and licensed practical nurses. RNs are the backbone of the healthcare structure in the US.

Most ADN programs in Iowa place a strong emphasis on clinical knowledge and skills, and they typically take two years to complete. Notable colleges and universities with ADN programs include Kaplan University and Iowa Western Community College. Individuals with packed schedules or work commitments need not be deterred, since most colleges and universities offer flexible class schedules and even the opportunity for evening learning. After completing the program, candidates must pass the national examination, the NCLEX-RN, to gain licensure.

Employment and compensation prospects for Iowa's registered nurses are very attractive. Based on statistics compiled by the Bureau of Labor Statistics, there are currently more than 32,000 employed registered nurses in the state, with an annual median salary of $52,610 that can rise as high as $63,820 in large cities like Des Moines. Employers of registered nurses range from private healthcare centers to government agencies such as the Department of Veterans Affairs.
For more information, interested individuals should refer to the following list of Iowa schools that offer state-approved ADN programs.