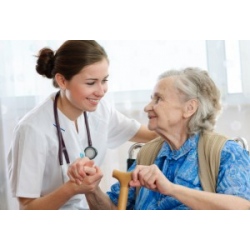 The U.S. is home to more than 110,000 nurse practitioners (NPs), and this population is growing at a rapid pace. NP employment is expected to grow by 34 percent over the coming decade, adding 37,000 new jobs in the field. Several factors are driving this increased healthcare demand, including federal health insurance reform and the needs of an aging Baby Boomer generation. Indeed, some nurse practitioners specialize in care for the aged, especially those with chronic and acute conditions. These advanced practice nurses are known as adult-gerontology nurse practitioners.
Adult-gerontology nurse practitioners assess, diagnose, treat, and manage a variety of health issues for older adults. They work in a diverse range of healthcare settings including hospitals, community health centers, assisted living facilities, private medical practices, home care, and Department of Veterans Affairs facilities. They also work in long-term care settings, such as chronic rehabilitation centers and urgent care departments. Some adult-gerontology nurse practitioners will follow their patients across care settings to maintain quality and safety during care transitions.
For their hard work and dedication, adult-gerontology nurse practitioners earn some of the highest salaries in the healthcare industry. Nurse practitioners earn a median annual salary of $93,000. Top performers can earn more than $110,000 per year.
To become an adult-gerontology nurse practitioner, you must first earn licensure as a registered nurse (RN) by completing a nursing diploma, associate's degree in nursing (ADN), bachelor of science in nursing (BSN), or direct-entry master of science in nursing (MSN). Nursing diploma programs are taught by about 50 hospitals across the U.S., while ADN programs are offered at 1,300 community colleges, technical schools, career schools, and four-year colleges. More than 800 colleges nationwide offer a four-year prelicensure BSN program, and approximately 50 universities teach a direct-entry MSN program for non-nurses.
Candidates in any pathway must pass the National Council Licensure Examination (NCLEX-RN) before practicing. This exam is mandatory in all states, the District of Columbia, and U.S. territories. After licensure, the RN can pursue a degree in the advanced practice role. The most common advanced degree is the MSN with a specialization in adult-gerontology care. Some nurses go further and pursue a doctor of nursing practice (DNP), the field's terminal degree.
In addition to an advanced degree, many employers require certification. Three national nursing bodies provide adult-gerontology NP certification. The American Association of Critical-Care Nurses offers the Acute Care Nurse Practitioner Certification for Adult-Gerontology (ACNPC-AG), the American Academy of Nurse Practitioners certifies Adult-Gerontology Primary Care Nurse Practitioners (AGPCNPs), and the American Nurses Credentialing Center offers Adult-Gerontology Nurse Practitioner certification in both primary care and acute care.
If you would like to specialize in a growing field with excellent earnings potential, enroll in an adult-gerontology MSN program. Browse our directory to find the best graduate nursing schools in your local area.