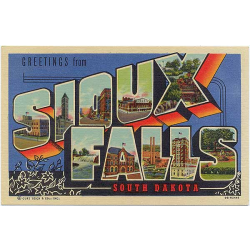 With a population of more than 12,000 registered nurses (RNs), South Dakota has the second-highest per-capita concentration of RN jobs in the nation. The state is also home to a large number of licensed practical nurses (LPNs) and certified nursing assistants (CNAs). Nursing professionals across all three roles are in high demand across the state. This is especially true in South Dakota's largest city, Sioux Falls.
The city's metropolitan area is home to several thousand RNs, more than 700 LPNs, and over 2,000 CNAs. They work at major hospitals and healthcare centers like Sanford USD Medical Center, Avera McKennan Hospital & University Health Center, Sioux Falls Specialty Hospital, and Sioux Falls VA Health Care System. Many of these nurses completed their education at a local college or university.
The University of Sioux Falls (USF) is one highly regarded local option. USF's School of Nursing offers several options for earning a bachelor of science in nursing (BSN) degree. Pathways include a traditional track, an accelerated track, and an online RN-to-BSN completion program. Located just five miles away, Southeast Technical Institute offers shorter certificate programs for aspiring LPNs and CNAs.
Regardless of institution, registered nurses must complete a hospital diploma, associate's degree in nursing (ADN), bachelor of science in nursing, or master of science in nursing (MSN). The MSN degree is not uncommon, especially for advanced roles such as nurse practitioner or critical care nurse. Graduates of any program must pass the National Council Licensure Examination for Registered Nurses (NCLEX-RN) to obtain a license.
LPNs must complete a state-approved educational program that leads to a certificate, diploma, or associate's degree in practical nursing. Upon completion of the program, graduates must pass the NCLEX-PN national exam to obtain a license.
Aspiring CNAs must complete a nurse aide training program which includes supervised clinical experience. Graduates must then pass knowledge and skills tests to become certified. In South Dakota, CNAs can earn additional specialty certifications. A common one is certified medication aide / assistant (CMA). This title allows CNAs to administer medications to patients, often enhancing their job opportunities and hourly pay.
Depending on the role, nurses in Sioux Falls, South Dakota, can earn anywhere from the mid-$20,000s to six figures. CNAs fill an entry-level role and thus earn about $25,000 per year. The average LPN in Sioux Falls earns $36,000, while local RNs take home approximately $56,000 per year. Nurse practitioners, who typically hold graduate-level education in a specialty field, are among the highest-paid nurses in the state, with an average salary of $95,000.
If Sioux Falls, South Dakota, sounds like the best place to begin your nursing career, start planning today. Below is a complete list of the metropolitan area's accredited nursing schools to help you get started on your journey.