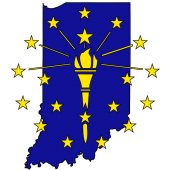 Nursing is widely regarded as an exciting and rewarding career, especially for those who have a naturally caring disposition and a passion for tending to others, particularly the sick or injured. With the healthcare industry growing nationwide, now is as good a time as any to pursue such a worthwhile profession.

In the state of Indiana, one of the shortest routes to a nursing career is through a licensed practical nurse (LPN) program, which provides the knowledge, skills, and preparation for a final licensure examination. As an LPN in the healthcare system, you will be expected to perform various tasks under the supervision of a registered nurse. These responsibilities include checking vital signs, administering injections, and ensuring intake of medicines.

LPN programs offered in nursing schools in Indiana can be completed in 12 to 18 months, and they often include hands-on practice. Graduates need to take and pass the NCLEX-PN examination and will be required to obtain a CPR card to qualify for their LPN license.
LPNs are much needed in the medical workplace in Indiana, and they generally can find ready employment in hospitals, nursing care facilities, or doctors' offices. According to the US Bureau of Labor Statistics, a licensed practical nurse in Indiana earns an average of $39,900 annually, with salaries ranging from an entry-level wage of $34,970 to a high of $44,980 with additional training and experience.
The largest Indiana school offering an LPN program is Medtech College in Indianapolis, but there are many others across the state that should fit your needs. Check out the list of LPN schools in Indiana below to begin your nursing career today.