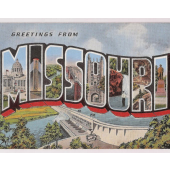 An associate's degree in nursing (ADN) is the fastest path to a career as a registered nurse (RN). Many students enter the profession right after graduation and work for a few years before pursuing a bachelor of science in nursing (BSN) degree through an RN-to-BSN degree completion program.

Description of the ADN pathway
Most ADN programs take two to three years to complete, and they place a strong emphasis on clinical skills and knowledge. All programs prepare students for the National Council Licensure Examination for Registered Nurses (NCLEX-RN), which they must pass in order to practice. Missouri has 35 accredited ADN programs at campuses throughout the state. The majority are offered by the state's vast network of community colleges; Metropolitan Community College in Kansas City hosts the largest such program, with 150 graduating students each year. These public programs are complemented by several private schools. For example, Southwest Baptist University's Mercy College of Nursing and Health Sciences also graduates approximately 150 new ADN-educated nurses each spring.

Career outlook for Missouri's RNs
Missouri's registered nurses can expect numerous employment opportunities and attractive pay. According to the Bureau of Labor Statistics, there are close to 65,000 RNs in the state with a median annual salary of $56,690. The average RN pay increases to $62,790 in Kansas City, one of the state's largest metropolitan areas. Missouri's nurses can build stable and rewarding careers at local hospitals like Missouri Baptist Medical Center, Washington University's Barnes-Jewish Hospital, and St. Luke's Hospital.
If you live in Missouri and you want to become a nurse, it's time to start planning. Take a look at our comprehensive list below of the state's ADN programs, organized by major city.