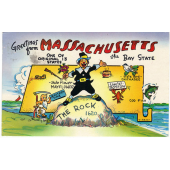 Massachusetts offers some of the most coveted degrees in healthcare training, including many high-quality associate's degree in nursing (ADN) programs. Covering only two years of training and practice, ADN programs offer tremendous opportunities to prospective registered nurses at a very reasonable cost.

Summary of the associate's degree program
One of the most popular options for prospective registered nurses, the ADN program offers many immediate advantages for aspiring students, including affordability and practicality. Available at most universities, community colleges, and technical institutes, the ADN program features two years of intensive training with first-hand experience, which quickly equips candidates with the necessary skills to practice upon graduation.

All ADN programs focus on initial registered nursing licensure, enabling students to achieve this license much more quickly than candidates pursuing a bachelor's degree. The shorter length also makes ADN programs more affordable, opening healthcare education to a wider range of prospective students. Many colleges offer evening classes to accommodate students' schedules, greatly enhancing the flexibility of the program. Nurses also receive hospital training at cooperating local hospitals and are eligible for clinical rotations.
Career outlook
After two years of training, ADN students can choose to enter the nursing workforce. At some schools, registered nurses with an ADN degree may instead enroll in a bachelor of science in nursing (BSN) program if they wish to pursue further education. Two of the top ADN programs in Massachusetts are offered at Quincy College and Holyoke Community College, with 90% of their graduates passing the national licensure exam on the first attempt. Registered nursing is the most common occupation in the healthcare industry, with nearly 80,000 nurses employed in Massachusetts earning approximately $80,000 per year.
Begin your ADN program in Massachusetts today with our below list of local healthcare schools and training institutes.