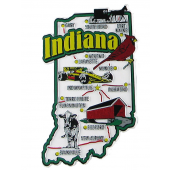 The field of nursing offers several attractive career options and employment benefits, particularly for those who are passionate about serving the needs of the sick and injured. For anyone interested in becoming a registered nurse (RN) in Indiana, the first step is to pursue an education that will prepare you for the licensure examination. There are several academic programs offered by schools within the state that can prepare you for such an exam.

One shorter-term option to obtain your RN licensure is earning an associate's degree in nursing (ADN), generally offered as a two-year course in Indiana's nursing schools. Many schools offer a curriculum focused specifically on initial RN licensure to prepare you to pass the requisite exam, the NCLEX-RN.

Other associate's degree program in Indiana provide a two-year education in licensed practical nursing (LPN). A number of ADN programs in Indiana are ideal for working nurses who aspire to higher learning and career opportunities; for this reason, evening classes have been introduced on many campuses.
ADN graduates are eligible to be hired in practically all healthcare settings, including hospitals, medical and health centers, and hospices. They earn an average of $57,370 annually, ranging anywhere from $47,650 to $68,700.
The list below contains the best ADN programs in Indiana to help you take the first step towards becoming a nurse.