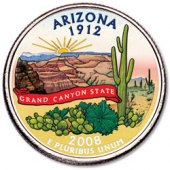 Most frequently, students pursue an associate's degree in nursing (ADN) in order to qualify as a registered nurse and prepare for the national licensing examination, the NCLEX-RN. However, several of Arizona's associate's degree programs in nursing actually provide deeper exposure to related nursing roles, including licensed practical nurse (LPN) and certified nursing assistant (CNA).

What can students expect when looking into an ADN program? First of all, associate's degree in nursing programs are relatively short, typically just two years in length. Moreover, many offer flexible class schedules in order to accommodate part-time students, and several campuses offer evening classes for this very reason. Over twenty ADN programs are available throughout the state, including programs at Mesa Community College, Brown Mackie College, and Pima Medical Institute.

The median salary for RNs in Arizona is $71,010, while that for LPNs and CNAs is $50,310 and $27,440 respectively. RNs in particular are in high demand at a wide range of employers. Major nursing employers in the state include Yavapai Regional Medical Center, University of Arizona Health Network, and Immigrations and Customs Enforcement.
To assist those embarking on an ADN degree in Arizona, we have compiled below a comprehensive list of the state's associate's degree in nursing programs.